Contents
Automotive Engineering Exposition 2021 has ended.
We hope to see you the next exposition.
Special Exhibits
Automotive Technologies for Building
a More Environmentally Friendly and Affluent Society
Our aim is to realize ever-greater convenience and comfort through automotive technologies. We have helped build a rich and varied car-based society while taking on a wide range of issues. As we work to achieve even greater development, automotive technology has recently started to face a once-in-century period of profound transformation. At the same time, as eyes turn toward the global environment, it is a fact that our peaceful and comfortable lifestyles are facing growing challenges from nature.
Therefore, in this year's AUTOMOTIVE ENGINEERING EXPOSITION, we are presenting information outlining the impact of industry on the global environment and introducing the leading edge of automotive technological progress for helping to build a more comfortable, environmentally friendly, and sustainable society as we stand on the verge of globally oriented activities.
To help create a brighter future for the global environment, this event will showcase automotive technologies that will contribute to building a new energy society and mobility technologies to support even more peaceful, safe, and prosperous lifestyles.
Additionally, factoring in current affairs and touching on initiatives for mobility in the shadow of the coronavirus pandemic, this event also introduces mobility technologies appropriate for the new normal.
Venue

ONLINE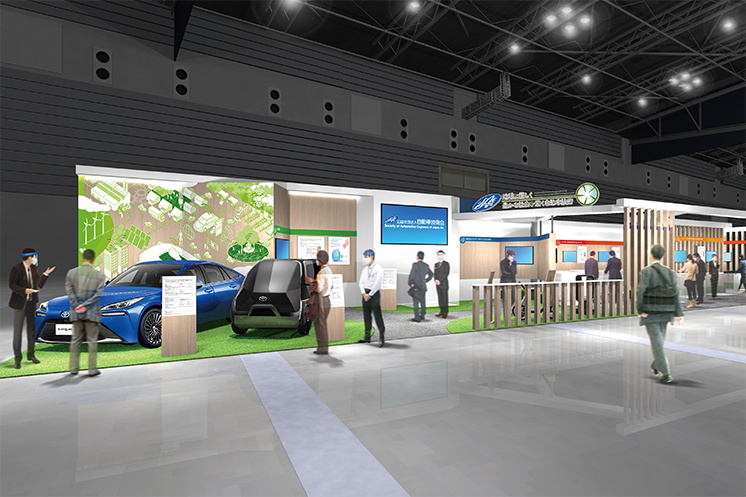 1. The social landscape

As the state of the global environment becomes steadily more severe, what must we do as members of the international community, as a country, as an industry, as automotive engineers?
Based on the current social landscape, this event thinks about how we can change society in step with the evolution of the car while we develop ever more sophisticated technology.

2. Assumptions for a new mobility energy society

The Automobile in the Year 2050* focused on the relationship between energy and mobility, and assumed the arrival of a new energy-based society. Under these assumptions, this event considers how our lifestyles and the mobility underpinnings of our society will evolve. It also assumes how people and goods will move in and around urban areas, and considers the issues and measures facing the advent of this new society.


* Published by the JSAE in 2017

3. Role of automotive technologies in the new energy-based society of the future

The internal combustion engine has a long century-old tradition. While we make more efficient use of internal combustion engines, we are also focusing on electrification technologies to help minimize CO2 emissions. In addition, to realize carbon neutrality, the sophisticated technologies to minimize CO2 emissions that are currently being developed through industry-academia-government collaborative projects need to evolve and spread throughout the whole of our mobility society including its infrastructure, rather than being limited to on-board technologies.

4. The efficient creation, storage, and use of energy

One direction in which automotive technology can evolve and spread is through the fusion between on-board and infrastructure technologies. For this reason, the efficient creation, storage, and use of energy is very important. This corner showcases both on-board technologies and infrastructure technologies related to mobility with the theme of creating, storing, and using energy.

5. The new normal

We find ourselves unexpectedly living under a new normal. As the combination of CASE and MaaS technologies brings about the transformation of everything we thought we knew, how exactly will mobility change in the future? This corner presents the cutting edge of research that leverages IT and the latest technologies to suggest target directions for mobility as we continue to search for the way forward.
Exhibit Collaborators and organizations (in Japanese syllabary order)
AISIN CORPORATION / CHAdeMO Association / Furukawa Electric Co., Ltd. / The group of The University of Tokyo : The University of Tokyo, Bridgestone Corporation, NSK Ltd., ROHM Co., Ltd., TOYO DENKI SEIZO K.K. / Hino Motors, Ltd. / IMUZAK Corporation / Mobility System Joint Research Chair / Namie town, Fukushima Prefecture / Nippon Sheet Glass Co., Ltd. / Ricoh Company, Ltd. / RIKEN & Kobe University / TOYOTA MOTOR CORPORATION / Toyota Tsusho Corporation / UTMS Society of Japan