Contents
Automotive Engineering Exposition 2021 has ended.
We hope to see you the next exposition.
Chubu Branch Exhibits
The main theme of the exhibits presented by the Chubu Branch of the Society of Automotive Engineers of Japan is how autonomous driving can help to realize zero traffic accidents, alleviate congestion, reduce emissions, and so on. The exhibition showcases various products and technologies for achieving these objectives, focusing on companies in the Chubu region.
Venue

ONLINE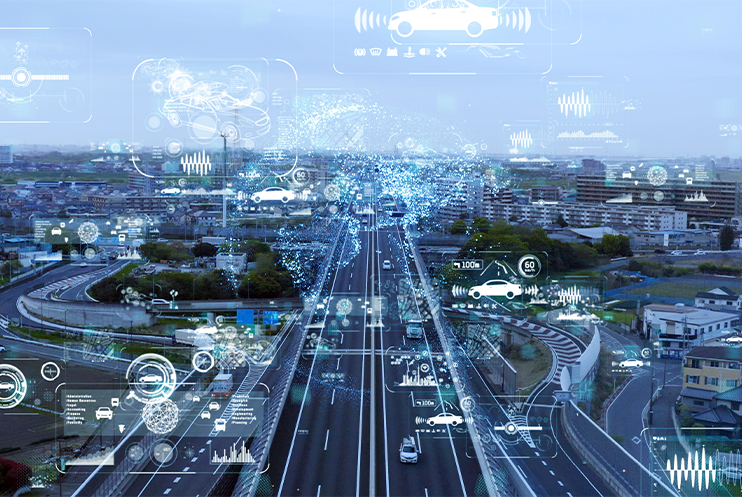 Cognition

Sensor technology is critical for the cognition functions of autonomous vehicles. These exhibits showcase light detection and ranging (LiDAR) technologies capable of sensing the environment around the vehicle, such as objects or people on the road, as well as magnetic marker systems that use magnetic sensor technology to estimate the location of the driver's vehicle regardless of the surrounding environment.

Decision making

Software that controls the vehicle based on various types of information is at the core of autonomous driving technology.
Focusing on decision making functions, these exhibits present autonomous driving technologies that integrate robot control software and evaluation techniques used in the accumulation of actual driving data and software development.

Communication

High-speed and stable data transmission and reception systems play an indispensable role in identifying the constantly changing traffic situation and helping the vehicle to make the correct decisions.
These communication-based exhibits highlight 5G automotive glass antennas and the manner infrastructure provides traffic signal information.

Maps

Accurately localization is a vital aspect of autonomous driving.
Maps exhibits shine a spotlight on highly accurate three-dimensional maps containing a many essential objects data, as well as various map technologies for the autonomous driving.
Exhibit Collaborators and organizations (in Japanese syllabary order)
AISAN TECHNOLOGY CO.,LTD. / AICHI STEEL CORPORATION / AGC Inc. / KOITO ELECTRIC INDUSTRIES, LTD. / PERSOL RESEARCH & DEVELOPMENT CO., LTD. / HAGIWARA ELECTRONICS CO., LTD. / Hamamatsu Photonics K.K.
Autonomous driving demonstration vehicle test rides
How about taking a test ride in an autonomous EV designed for last-mile transportation without a steering wheel, or brake pedal! Experience for yourself autonomous driving using highly accurate three-dimensional maps and other technologies.
Dates

Wednesday, June 30, Thursday, July, 1
10:00 - 17:00
Friday, July 2
10:00 - 15:00

Venue

Exhibition Hall 3

Entry

Free, advance registration

Supported by

AISAN TECHNOLOGY CO., LTD.