Contents
Automotive Engineering Exposition 2021 has ended.
We hope to see you the next exposition.
Chubu Branch Research Presentation
Research report sessions organized by engineers in Chubu region.
Venue

ONLINE

Admission

Registration required

Dates

Monday, July 12, 10:00 AM through Sunday, July 18, 2021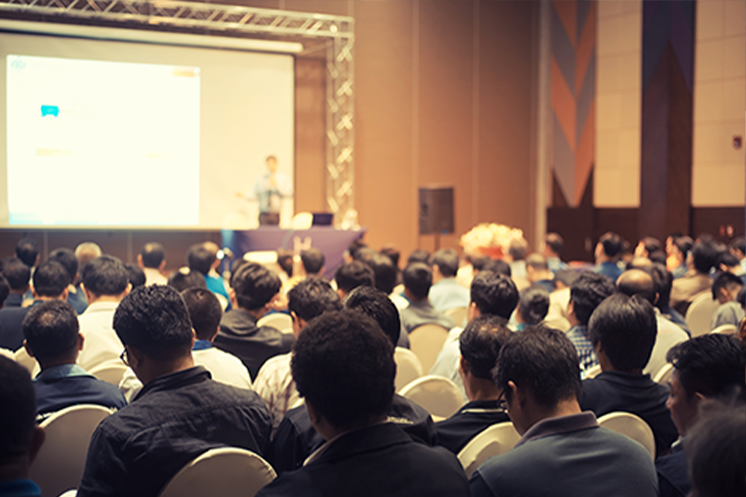 Core Technology

Multi-objective design exploration of automatic transmission casing

Kentaro Toda

Scientific Analysis Engineering Department
AISIN CORPORATION

We use multi-objective design exploration for lightweight automatic transmission casing. This problem considers durability, NVH, minimum wall thickness and undercut at the same time. We propose a fast method to solve a large-scale model, and introduce the lightweight shape obtained by this method.

Reproducing Corrosion State and Predicting Corrosion Transition of Stainless Steel used in Exhaust System of Vehicles pooled in Coastal Area

Ryojiro Gomi

Material Engineering Department
Mitsubishi Motors Corporation

When vehicles are pooled in a coastal area, specific disfiguring rust may be generated on exhaust parts made of stainless steel. This study is to build the simulation technique. Furthermore, we conducted outdoor exposure tests to investigate the main environmental corrosion factors and the corrosion transition behavior of each stainless steel, and built the corrosion prediction method.

Studies on the improvement of White Structure Flaking resistance by Tribofilm Formation

Kanako Takahara

Organic Materials Sect. Material R&D Dept.
JTEKT CORPORATION

White Structure Flaking is one of the significant challenge for the automotive bearings of electrical and auxiliary equipment. In this study, the reactive tribofilm formation made it possible to have a balance of white structure flacking resistance and rust resistance.

Vibration characteristics analysis of cylinder-block due to dynamic motion of crank-system

Tsutomu Kubota

Advanced Bearing Development Dept. Development Div. No.1
TAIHO KOGYO CO.,LTD.

The relationship between crankshaft behavior and cylinder block vibration under firing operation is reported. It is shown that there is a correlation between the cylinder block, the crankshaft behavior and the oil film thickness calculated by elastohydrodynamic lubrication model.

Development of Low Temperature Activation Improvement Element of Heaterless O₂ sensor for Two-Wheels

Shigehiro Ohtsuka

Development Design, Engineering Dept., Sensor Div.
NGK Spark Plug Co.,Ltd.

The need for O₂ sensor for two-wheels includes improved mounting and lower costs. Therefore, the development of low temperature activation element capable of detection at low temperature(300℃ or less) and the development of platinum electrode substitute material (oxide electrode) were worked out.

Compact Coaxial Bypass-type Exhaust Heat Recovery System using SiC Honeycomb

Tatsuya Akahani

Ceramic Products Business Group
NGK Insulators, Ltd.

We are developing a new compact heat recovery system using highly heat-conductive SiC honeycomb with donut shape. In this paper, we report the structure of the developed prototype and testing results of heat recovery performance.

Development of a Motor for Small Mobilities with using Soft Magnetic Compound Cores

Takumi Sugimura

Fundamental Technology Research Div.
YAMAHA MOTOR CO., LTD.

Elemental technologies of an in-wheel type axial gap motor for small electric mobilities with using soft magnetic compound cores are introduced. At first, a forming process and magnetic properties of compacted cores are expressed, then several features of a stator design are discussed.

Electronics / Production Technology

Development of Smaller and Higher efficiency DC/DC convertor

Tomoyuki Mase

Power Electronics System Engineering Office No.1
Engineering Dept. Electronics Division
TOYOTA INDUSTRIES CORPORATION

In order to contributing an improvement of fuel efficiency for eco-friendly vehicles, next generation DC/DC convertor has been developed. The development concept is set to "Smaller ", "Lighter" and "Higher efficiency", and have been achived +20% improvement compared to conventional DC/DC convertor. In this presentation, the breakthoughs will be introduced.

Door mirror cover misassembly detection system

Kazuyuki Yamamoto
Hiroyuki Ushioda

TPS Promotion Div. AI Promotion Gr
Toyota Motor East Japan, Inc.

Using AI, we have developed and introduced a system that automatically inspects the types of painted parts of "similar colors" such as white solid and white pearl, making it possible to prevent incorrect assembly.

Determination of arc welding conditions by mathematical optimization and artificial intelligence(AI)

Takayuki Azama

Digital Engineering Dept. CAE Promotion Group
Suzuki Motor Corporation

The derivation of the welding conditions depends on the trial by the actual prototype. Therefore, based on empirical formula obtained from welding experiments, we developed a method to derive appropriate welding conditions from the joint shape of 3D-CAD using mathematical optimization and artificial intelligence(AI).
Stability / Chassis & Body / Comfortability

Analysis of the Relationship between Comfort and Body Behavior during Autonomous Braking

Masanori Matsuoka

Department Research & Development Dept. 2 Sect.
ADVICS Co., Ltd.

Abstract Passenger's body behaviors and subjective evaluations of comfort were measured for four types of braking patterns. The result of multiple regression analysis on subjective evaluation values and body behavior showed that shoulder angle contributes to the evaluation of comfort. Furthermore, the result of comparing the relationship between the comfort score and body behavior based on each participant's highest braking pattern comfort score suggested that the difference in the comfort evaluation may be affected by the difference in the timing of holding the body against the braking G-force.

Development of an outer panel joint structure that improves the appearance of the new Hiace

Yukimasa Matsumura

Vehicle Performance Development Div.
TOYOTA AUTO BODY CO.,LTD.

The outer panels of large box-type commercial vehicles are spot welded with several rust-proof steel sheet because it is too largeto form as one piece. In this paper, we report an evaluation method of coating paint crack at the outer panel joints.

Thermal Simulation for Actuators of Electric Slide Door

Ryo Asami

1st Body Components Engineering
AISIN CORPORATION

For thermal design of electric sliding door actuators, we need tools that can analyze the behavior of the actuator temperature without measurement. Therefore, we have developed one-dimensional physical models that can estimate the transient temperature when the actuator design is changed.

Safety Technology / Environmental Technology

Application of MDB (Moving Deformable Barrier) in development of head impact protection performance

Hiroki Noma

Interior & Exterior Evaluation & Engineering Div.
Toyota Boshoku Corporation

Regarding "Vehicle protection against vehicle interior impact" of North American regulation (FMVSS201), conventional CAE analysis for performance prediction takes lead time, it cannot support short-term development. In order to shorten the lead time, we adopted a model-based development method using 1D-CAE.

Simulation-based Benefit Estimation of Automatic Emergency Braking in Vehicle to Pedestrian Collisions

Nana Takeuchi

Integral Engineering Dept.
TOYOTA MOTOR CORPORATION

This study estimated the benefit of Automatic Emergency Braking [AEB] in vehicle to pedestrian collisions in various situations where pedestrians crossed the road in front of a vehicle. A series of 17,000 cases were simulated for both with and without AEB. The collision avoidance effect was estimated from the reduction in number of collisions. The injury mitigation effect was estimated from the reduction in fatal injury risk calculated using the human body FE model. The simulation results indicated that AEB reduced the number of collisions by 84% and lowered the fatal injury risk by 75%.

Kinetic Energy Management with Surrounding Vehicles Behavior Prediction

Hiroyuki Nanjo

Department Systems Development for Smart City Div.
DENSO CORPORATION

According to Advanced Driving Assistant System development, it also gets attention as a technology to improve fuel economy. A vehicle's energy consumption can be reduced significantly by the kinetic energy management. We explain the technology which use the kinetic energy effectively with the preceding vehicle behavior prediction.

Early detection of engine bearing damage using Acoustic Emission (AE)

Motohiko Koshima

Design Department
Daido Metal Co., Ltd.

The early detection of the bearing damage due to seizure was studied. Vibration (acceleration) and torque, contact between shaft and bearing, and AE signal were measured.
The AE signal was the most suitable for detection, so the results will be reported.

Power Train

Establishment of bearing design technique for high power electric oil pump

Yusuke Nakayama

Department 2nd Engine Components Engineering Dept.
AISIN CORPORATION

The usage of the electric oil pump is introduced to many divergences while it shifts to electrified drive unit, and high pressure, high flow quantity has been required.
We would like to introduce the example that made the bearing design technique with balance of cost and mounting under the background.

Brand New Small Gasoline Engine for New Kei-Car

Daisuke Amemiya

Powertrain Project Control Department
NISSAN AUTOMOTIVE TECHNOLOGY CO.,LTD.

Kei-car is a unique micro vehicle for the Japanese market designed to meet the specific customer requirements of high environmental standards and competitive cost. Nissan developed a new 660cc gasoline engine to meet these specifications, based on a modular development of the alliance engine series. The initial focus was to develop the basic construction of the engine by optimizing small bore-long stroke, intake and exhaust ports and combustion chamber shape to achieve a high performance level. To attain the high power, fuel efficiency & exhaust emissions we combined dual injector system, cooled EGR system. This paper details the development of this new engine.

Development of New Hybrid Transaxle for Mid-size SUV

YASUKI YOSHIKAWA

Powertrain Development Div. No.1
TOYOTA MOTOR CORPORATION

To comply with the even stricter fuel economy regulations as of late, Toyota has developed a new transaxle P810 for mid-size SUV. This transaxle was increased power output, avoiding compromise in power performance, in addition to great fuel economy. Therefore, the cooling capacity was enhanced by a dual-circuit cooling system that had two heat exchangers, water-cooled and air-cooled. This system was mounted with a circuit that has high vehicle deployment and low pressure loss, and contributed to NV and mass reduction.